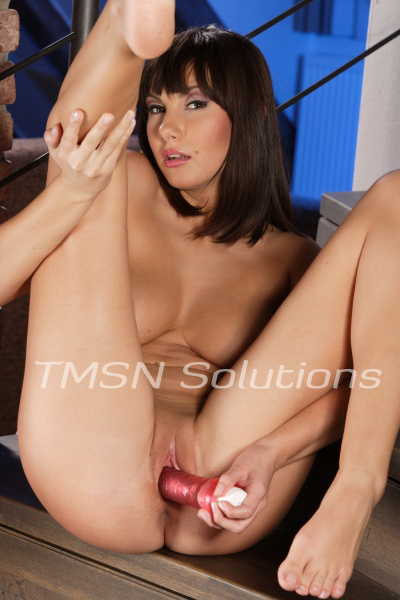 *LUCY*  844-332-2639 xxx- 221
After Hubby's birthday gift of the Asian TS hooker, I decided to give him a bonus visit to my Red Room. I had just purchased a shiny new strappy and I wanted to try it out in his ass. Since he fucked the hooker but he didn't get fucked (so sad, I know!), this is the perfect time to have some fun.
When he got home from work, I took him directly into the Red Room. I had him put on the soft blue robe again and I blindfolded him. I told him to wait there for a special visitor. I had purchased an outfit that was just like the hooker's and I put it on. Then silently I entered the room and started to touch him. If he tried to speak, I just said, "Shhhhh…" I was mimicking the moves I saw her make so that it would bring her to mind. He was rock hard by the time I got around to touching his dick. 
I covered it with oil and slipped it between my breasts, while I started to finger his ass. My slippery fingers slid in easily. I found his G-spot and starting milking him. Faster and faster without letting up. I wanted him to have a full body orgasm. He looked down at me while fucking my tits came all over them. I whispered to him, "It's time for me to fuck you." 
He rolled over and put his ass up in the air. I shoved that strappy in and he began to whimper. I drizzled more oil on the strappy and pumped a few more times. His whimpers turned to moans. He was hard again and ready to cum. I slipped it out and decided to torture him a bit. I love some good tease and denial, especially when it's with my man.
I left him lying there a little while. He was still blindfolded. Finally, he said, "Are you there my love?" I answered him by sliding a little vibrator along his inner thigh and up against his balls. He was still slippery with oil and I teased his asshole with it. He was humping the bed, trying to cum but every time I knew he was close I would stop and pull away. I kept teasing him until he started to whimper again and then I slid the vibrator in and made him cum.
After stroking his back for a few minutes while he blissfully rested I got up and told him to clean up his mess. Then I left the room. I'll give you all the pleasure you could ever dream of but a true Mistress never cleans up after playing with her man toys.
Lucy xx
Come find me at – 844-332-2639 xxx- 221
https://www.sinfullysexyphonesex.com/lucy/
https://www.phonesexmamas.com/lucy/
Read these my lovers
https://www.phonesexmamas.com/author/lucy/
https://www.phonesexmamas.com/author/lucy/
https://www.sissyphonefantasy.com/author/lucy/
https://phonesexcandy.com/author/lucy/
https://www.sinfullysexyphonesex.com/author/lucy/
https://www.sinfullysexyphonesex.com/author/lucy/