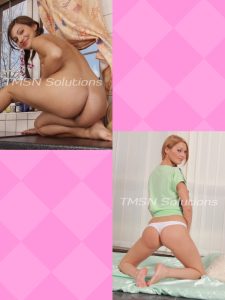 So, how did Kayla and I get caught at the club in the bathroom half naked?  Well, that's a super fun and sexy story that I'd love to share with you.  If you know us, you know that Kayla and I have a tendency to find ourselves in some rather dicey situations.  Mostly due to some of our very own questionable life choices.  Though let's be honest, they seem like fantastic ideas at the time and they DO usually end with us having rather enjoyable sexual encounters and multiple orgasms.  We made plans to go to the club together that night for dancing and a shot challenge we'd heard about.
Half Naked
We got to the club and checked in with the bouncer then made our way to the bar.  Excitedly we told the bartender that we wanted him to hook us up with a different type of shot every time we came up.  He grinned and took my card for our tab and promised he'd make sure we got to try lots of different concoctions.  The bartender definitely held up his end of the bargain as we danced the night away.
But, like many of our adventures, it quickly escalated and got out of hand.  I grabbed Kayla right there on the dance floor and shoved my tongue right into her mouth kissing her to the wolf whistles of the men around us.  Giggling uncontrollably, we linked arms and stumbled into the bathroom.  Kayla pushed me up against the wall and it wasn't long before my dress was pushed up to my waist and my panties down to my ankles and Kayla's mouth working it's magic on my pussy.
I was seconds away from cumming all over her sexy face when the door burst open and that big hulking bouncer came into the bathroom catching us in the act of public bathroom sex.  He grabbed us each by an arm and pulled us into the back room of the club.
Want to find out what happened with me, Kayla, and that huge sexy bartender?  Call us for more!
Zesty Zoey
1-844-332-2639 Ext 403