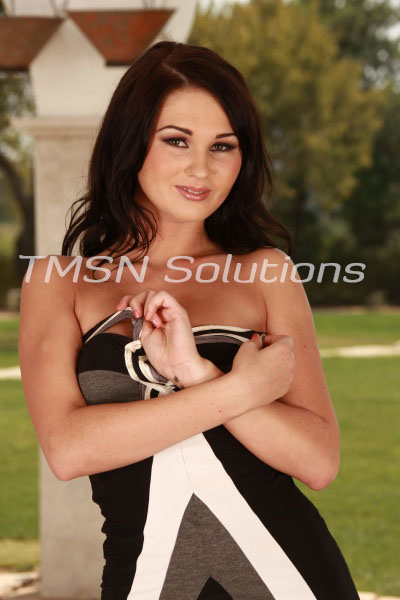 Sweet Lovin Kayla 1844-33-CANDY ext 357
We've talked about the rules. I was sure you said you understood them. It seems as though maybe you found some loopholes. I know that hungry little cock of yours can't stand the thought of not cumming. Your heavy balls ache and tingle all day while you try to focus on work. They cause your cock to twitch to life and then that perverted mind of yours begins to think of me.
I know you think of how my voice sounds how it gets really low when you turn me on. How I scream out in breathy gasps when you make me orgasm over your face. However, you won't be hearing me cum for a while now that you've tested the limits of your rules and found naughty ways to skirt around them. Just remember… You did this to yourself.
Ball Busting
I've never been one to enjoy ball busting but since we've been exploring it more and more I'm discovering how thrilling the act really is. I want you to sit right here on the floor in front of me. I'm sitting on the side of the bed with my thigh-high, black stiletto boots touching the floor. When your back meets the side of the mattress, your head is level with my pussy.
It makes it so easy for me to slip my thighs up over your shoulders and push your legs open with my the toes of my high heeled boots. I'll tuck my boots just under your knees so you can't close them easily. Now that you are spread open for me like the slut we both know you are, I kiss the top of your head and whisper "Take this well and it will be over soon. If you cry and whine, or try to close your legs, it could take all night."
You sweetly whimper a "Yes Ma'am," Just as I slap the tip of my riding crop against your balls. Your body jerks and you gasp. I know it hurts… Did you think the punishment would feel good?
Who Do Those Balls Belong Too?
It hurts, but look how fucking hard your cock is. It's standing straight up, begging for a few licks from my crop too. I brush your shaft with the leather tip. Up and down while you lean your head back into my body. I cup your chin and make you look up into my face. Once I have your full attention, I slip my right foot from under your leg and kick your sack with the back side of my heeled boot.
Your eyes water as your body hunches in on itself. Your coughing slightly and cussing under your breath, but look down, baby. Your dick is leaking precum. You like it when I hurt those fucking balls. I'm so glad you do because I have SO MUCH I want to do to them. Tonight we're gonna test how much your balls can take.
Sweet Lovin Kayla 1844-33-CANDY ext 357
https://phonesexcandy.com/sinfully/kayla
https://phonesexcandy.com/sinfully/kayla/
https://sinfullyphonesex.com/kayla/