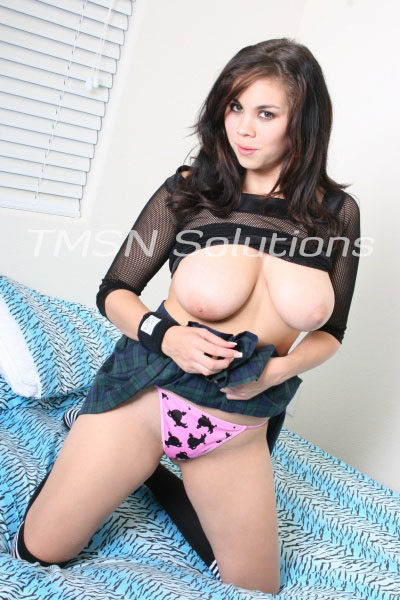 Gianna 844-332-2639 ext 355
Guess The Panties!
I'll be hosting game night tonight in our chatroom at 9 PM EST! You naughty boys better start doing your homework because for tonight's game I'll be showing you all pictures of panties worn by various Candy Girl beauties! You'll have to guess which panties belong to who! The lucky guy that guesses the most answers correctly will win a free 15 minute phone sex call! Do you all REALLY need a reason to stare at all our pictures?!
I better see you in the chatroom tonight at 9 PM EST with your hard cock out! Trust me, if you don't have a boner at the beginning of the game, then you DEFINITELY will afterwards. The pictures I will be using are fucking HOT. My panties were getting wet just picking the pictures out so you KNOW it's going to be a very fun and sexy game. 
Some of you go crazy over panties. I feel like every other conversation that I have with a guy is about the panties I'm wearing. I KNOW guys ask the other Candy Girls about their panties all the time too. Some guys like hi-cut, hipster, boy shorts, lace, thongs, or simple cotton panties. I've talked to guys that even go as far as discussing what type of material they like. Some only like nylon while others prefer silk. Don't even get me started on edible panties! 
You better bring your panty loving self to tonight's game! Don't make me spank you for missing out ;)!
Gianna 844-332-2639 ext 355
My Profiles