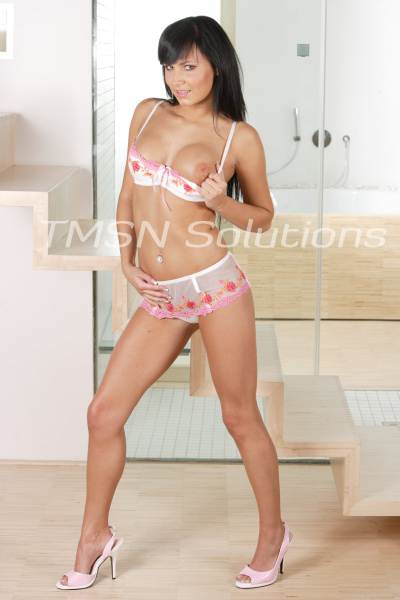 Zia 1-844-33CANDY ext 402
Look at me. I have such a pretty face that should be covered in your cum. I have the tightest little ass that needs to be spanked hard. My huge 36D perky tits should be pinched and titty fucked. I'm the perfect sexy little fuck toy for all your sexual and perverted needs in some hot fuck toy phone sex.
My favorite thing in the world is to be used and abused like a naughty little slut. This cute girl IS a naughty little slut. These holes are only for one thing-your cock filling them and shooting cum inside them. I know what I am. I am a slutty little fuck toy for your pleasure.
My biggest fantasy is to go out to a club or bar and meet a sexy older man who can't keep his eyes off me. I dance and shake my ass in a tight little outfit and get him all worked up. Then, he comes over to me and picks me up and takes me back to his place. This is where things get very dirty. We don't even exchange names, but he rips my clothes off passionately and throws me down on his bed.
Suddenly, he's on top of me kissing my neck and biting it leaving marks of ownership. Consequently, my pussy gets so wet from being thrown around roughly and he flips me onto my stomach as I stick my ass in the air. Then this sexy, dominant man rams his big, hard cock into my tight holes and fucks me mercilessly until his cock explodes inside me. He calls me his used-up fuck toy and then I leave, still not knowing his name.
I am good for one thing only: being a filthy, slutty, pretty little fuck toy for all your deviant needs and desires. You know what I need. This whore needs to be your good girl and your slut and be used by you. Do you want to make me yours? Call me and come take me. Let's have some fuck toy phone sex.
Zia 1-844-33CANDY ext 402
https://phonesexcandy.com/candygirl/zia