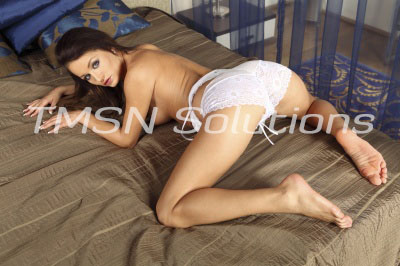 Sinful Serinda 844-33-CANDY (844-332-2639), ext. 394
It's Friday, we made it!  Did you have a tough week, too?  Work sucked, wife on your case, you just want to say "fuck it" to all of it, don't you?  Yeah, I understand.  How about instead of "fuck it" you fuck my ass?  I guarantee it'll be just what you need to take all your misfortune away.
Whoa whoa whoa, wait a second, hold up!  You didn't think I'd just let you ram your cock in my ass without paying proper homage to it, did you?  No, I'm not going to tell you what to do.  You have to be creative.  Show me how much you need this ass engulfing your cock.  Prove to me that you're worthy enough to fuck my ass.  On your knees is always a good start.  Caress it, feel my skin with your fingers.  Bury your face in there if you want, let me see how badly you want it.  Lick it, tongue it, nibble it.  I promise, I'll love every second of it.  Seeing you in that position only serves to arouse me even more.
Prove to me that you're worthy enough to fuck my ass.
It's ok, you can tell me how much you love the taste.  Or the feeling of my hole against your tongue.  You're such a dirty boy, aren't you?  And you just can't get enough MILF ass, isn't that right?  Mmm, I can tell just by listening to you how hard and eager you are.  Eager to lube that cock up and slide it into my tight little ass.  Isn't that right?  Or would you rather I be on top, in control of you?  Riding that cock with my ass – how does that sound?  My goodness, I think neither of us can wait for you to fuck my ass.  I'm getting excited just thinking about it.. so c'mon, get to work and worship that ass.
Serinda
844-33-CANDY
(844-332-2639)
ext 394
https://nawtytwistedphonesex.com/
https://www.sinfullysexyphonesex.com/serinda/