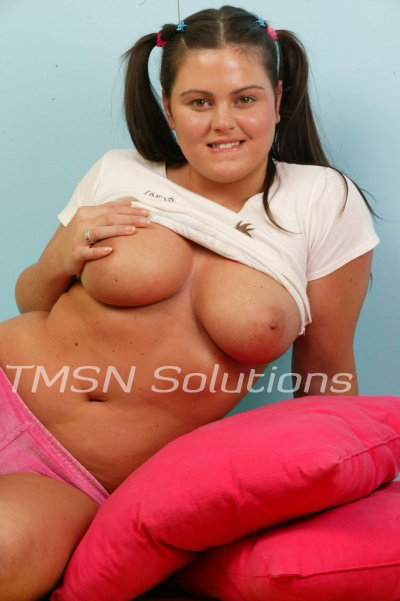 Krysta 844-332-2639 Ext. 410
You've made a BIG mistake, Daddy. I've told you several times now, I'm a big girl, and I'll do as I please! Don't take my toys away! If I wanna stay in my room and masturbate all day on the phone with random men, I should be allowed! But you never stay in your lane, Daddy. You overstepped and cleaned out my room while I was out with friends.
You stole ALL of my vibrators and other fun sex toys. Someone is going to have to teach you a lesson, and I'm happy to do the job.
Don't Take Away My Toys
When I got home and jumped into bed, ready to masturbate, I was furious when I couldn't find my toys! I knew what you had done; you'd been threatening it for weeks now. I stormed from my room to yours and found you sleeping on top of your bedcovers. Poor old man, too tired from a day of not minding your own business to actually get your ass in bed!
A box full of my toys was by your nightstand, and I knew just how I'd punish you. I carefully dug my handcuffs from the sex box and lifted your heavy arms to cuff you to your own bed. Then I wiggled down your pants and coaxed your short dick awake. As soon as you were hard, I placed my little lipstick vibrator to the underside of your head and secured it in place with duct tape. Ohh, that'll learn ya…
Then I turned the vibe on and watched you jolt awake. "Krysta! Ughnnn!" You groaned, humping the steady vibrations. "What's what is going on?!" You yelled as you yanked your wrists in the cuffs.
"You were bad." I wiggled down my panties and slipped them over your head to cover your eyes. "I told you not to take my toys!" Then I flipped you off, thankful you couldn't see it, and walked out of the room, wondering how long the battery would last.
Krysta 844-332-2639 Ext. 410
https://phonesexcandy.com/krysta/