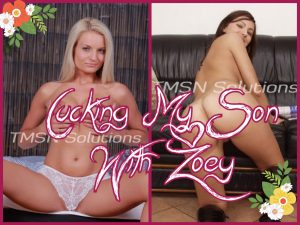 Phonesex with Felicity 1844-332-2639 x 270
Y'all know how my boy was a virgin till recently? Well, since Momma showed him how to be a big boy, he has been dipping that thick dick into anything that will spread its legs for him. Seriously, the boy went from virgin to whore in like two weeks. I figured it was time to teach him some humility. See, Momma, is always teaching!
I knew it was time for the hottest cucking lesson when he brought Zoey home. Baby boy was about to find out that no one has more game than his Momma.
Cucking My Son With Zoey
Zoey breezed into our house like the hottest little cock tease. She was being flirty with me while I fixed them both some sweet tea. She was wearing a cute little sundress, and I fingered the shoulder straps as she smiled up at me. Then I leaned in to brush my nose along her throat. "Mmm, you smell delicious," I told her as my son watched us from a bar stool at the kitchen island.
"Thanks," She squeaked and pressed in closer against me to inhale against my cleavage. "Not as good as you, though." Her dark eyes were playful and sparkly. So I dipped my hand from her shoulder to her breast and squeezed. When her lips parted on an inhale, I pressed my mouth to hers and kissed her deeply.
She opened her mouth for me, and I shoved her back against the counter. "Let's find out if you taste as good as you smell." I looked over my shoulder to wink at my son as I lifted his little girlfriend up onto the countertop and pulled her dress up over her hips. Her legs opened, and she gripped the back of my head.
"Please, don't stop." She whimpered, and I knew my poor boy was going to get the cucking of his young life.
Phonesex with Felicity 1844-332-2639 x 270
https://phonesexcandy.com/mamas-felicity/