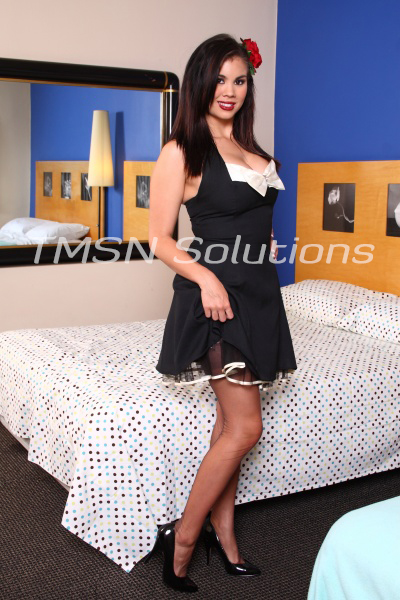 Gianna 844-332-2639 ext 355
I tell you that my friend needs some help hanging up shelves at her new high-end clothing and lingerie boutique. You're such a good boyfriend that you happily come with me to help. Once we enter the store, you're floored by all the gorgeous vintage dresses and expensive lingerie. My gorgeous busty red-headed friend is quite distracting too. She secretly hopes that we can convince you to crossdress and model some of her bigger clothes for her online store.
I hold up a few of the dresses that she needs someone to model for. They catch your eye. You can tell how well made and gorgeous they are! She's been having a hard time getting the proper models to come and try on the dresses. They'd fit you perfectly though… so she asks you if you're willing to help out even more. She bats her beautiful long eyelashes at you and asks if you'd consider modeling for us… since the dresses would fit you perfectly!
You're taken off guard. "You want me to crossdress and model the dresses for you?"
You seem uncomfortable so she reminds you that there is a salon next door with a talented makeup artist and hairstylist to help make you pass as a woman. "No one will be able to tell that you're really a guy. We'll make sure you pass so well!" You secretly think this sounds SO exciting… to dress up like a woman and have all these beautiful ladies touching you all over.
You agree to crossdress for us. We start waxing your legs and face at the salon next door. The ladies are eager to roll the nude pantyhose up your legs after they make you wear a silk lingerie set with breast inserts filling your bra cups. 
The makeup artist gives you a lovely natural make-up look with sultry smoky eyes. She glues the fake eyelashes on as the hairstylist secures a long brown wavy wig on your head. We're all so happy to see that you look just like a sexy woman! We slide a soft white cotton dress on you with a sweetheart neckline that accentuates your new breasts.
My friend and I hold your hand as you step into a pair of nude high heels so we can help you walk to the modeling area in the back of her store. She starts snapping photos of you modeling various dresses that compliment every curve on your body.
I'm not going to lie, I start to get super turned on as I help you undress for the various outfit changes.
My friend gets turned on too… because she switches gears and tells you that you're just going to model lingerie for the rest of the time. She brings out a sexy pair of black crotchless panties for you to wear. We make you bend over to show the little heart-shaped hole that reveals your clitty and asshole.
I can't help it. I grab your ass and slide one of my fingers in your asshole while my friend comes over and puts your hand down the front of your panties. She strokes your clitty as the camera snaps away after she sets it up on a tripod and makes it run off the self-timer. You begin to moan just like a woman.
My friend walks over and opens a mysterious black box and pulls out a marble patterned strap on.
She secures the harness around her waist and makes you put your pink lipstick covered lips on the tip. Teaching you to kiss and suck all over her cock. You look like such a beautiful whore. Bending over and taking her entire cock in your mouth! I wander over and grab a double-ended strap on and put it on. I take advantage of the fact that your beautiful ass is in the air and plunge my cock deep into your asshole after inserting the other end inside of me.
We love making you bounce back and forth as I fuck you hard! Forcing you to gag on her cock as your body thrusts forward as I fuck your ass!
The makeup artist and hairstylist hear all the commotion going on and come over to see you being filled by us. The hairstylist picks up a pair of diamond nipple clamps from the box and pinches them on your nipples. The clamps are connected to a silver chain and she tugs on while we fuck you. The makeup artist grabs another strap on and makes me scoot over so she can share your asshole with me. Both of our cocks stretching your ass out while my friend face fucks your pretty little mouth!
You're being such a good girl for us!
It doesn't take long until you give us all your cum. Leaving a sticky mess all over the floor. My friend bends down to kiss you on the lips before she thanks you for being such a good helper today. She wants you to come back and help out again very soon.
Gianna 844-332-2639 ext 355
My Profiles