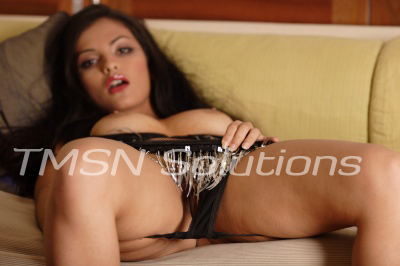 Anything goes xoX TorrenceXox (844-332-2639) ext 415
I've been itching to try something new, haven't you? We can dive deep into my bag of goodies, where anything goes. We could do anything you'd like. I can edge you until your cock is leaking cum, ready to burst. Or maybe you can edge me until my clit is swollen, so hard like a rock ready to erupt. What about dress up? Maybe I can give you a make over, and turn you into a beautiful little sissy bitch. Ever thought of pegging? Becoming my little sissy against your will, even though deep down you really want to. Tie you up, and prepare your ass for a stretching of a life time.  
Ass play
Speaking off ass. Maybe you can eat mine. I love to be rimmed, and fingered. Let's see how many fingers you can fit in my puckered hole. Stretch me to the max, put a XL dildo in my ass, then fuck me in my pussy. Pull my hair, and slap my ass. I'd love to ride you like a cow girl, while i get DP'd. Let me squirt all over your body, turn the bed into our own slip and slide. Do you like making a mess? Because I sure do.
2 girls are better than 1
If that's not your thing then maybe we could find another girl, and she and I could take turns sucking your big cock. We could have a contest to see who could get you further into their throat without gagging. I bet I'll win, thanks to my zero gag reflexes. Then after that she and I can hug tightly, while our bare breast are squished against each other. With your cock right in between them, bouncing up and down giving you a titty fuck out of this world. As your cock dips in and out, we both could take turns sucking on the head. There are so many options, let's see which one you'll choose. Remember, anything goes.
xoX TorrenceXox (844-332-2639) ext 415