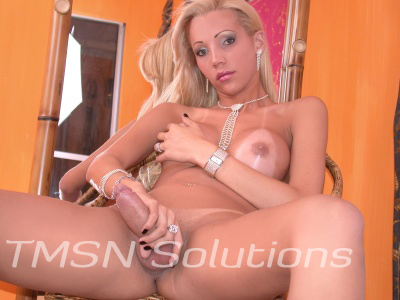 TS Alexus 844-332-2639 EXT 349
Don't get me wrong; I love sex. I love oral as well, both giving and receiving; however, sometimes, I'm just in the mood to masturbate. As good as it feels for someone else to please me, no one knows my body better than me. And the same goes for you, right? No matter how good I make you feel, you can still get there yourself quicker.  I want you to be my porn, my inspiration. So I'd love for you to watch me masturbate. Sit across from me, neither of us wearing any clothing. They are completely exposed to each other, hiding nothing.
While I look over every inch of you, you can admire my curves. Look at how my breasts move with my breathing—watching how my thighs flinch when my pleasure peaks.
Watch Me Masturbate
The idea of you sitting before me, limp as we begin, and slowly watching your cock respond to me touching myself makes me so hard. I want to witness it as your arousal grows with mine. Then, when my fingers wrap around my shaft and I begin to pump, I pray the moans that slip from my lips will make you throb.
After watching for just a few minutes, I think you'll be ready to grab yourself as well. Can you imagine how it would feel? First, your strokes increase as my breathing picks up. Then my strokes move faster and tighter simply because you are stroking harder.
Every emotion that crosses our faces will be displayed for the other to observe. A new kind of lovemaking will begin as we jerk together like this. Masturbating together can help us understand how the other person likes to be touched. It will only help me please you in the ways you've always longed for someone to masturbate you.
TS Alexus 844-332-2639 EXT 349
https://phonesexcandy.com/candygirl/alexus/