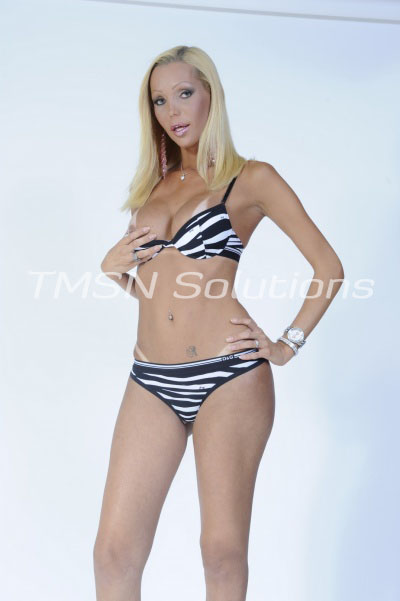 TS Alexus 844-332-2639 EXT 349
He stood waiting in the middle of the room. Just the sight of him had my cock throbbing in my panties, but it wasn't my own pleasure I was after. It was his. I crawled on my hands and knees to his feet, then nuzzled my cheek against his strong thigh. Looking up at him with doe eyes, I pleaded, "Please, Master. May I suck your cock?"
He shook his head and chuckled. "You're so small; I'm not sure Master's cock will fit in that little throat of yours." So he told me as his fingers stroked up the length of my neck and then pinched at my cheeks. I wanted to argue with him and tell him I could take it. I'd take anything he'd give me.
Throat Inspection
My eyes blinked up at him. The way he captured my mouth didn't allow me to voice my protest. His other hand came forward, and his thumb brushed over my lower lip. "Yes, see? Such a small little mouth you have, baby girl." My cock flexed in response to his words. His thumb pushed passed my lips to pin my tongue in place, and I moaned. "Master is much thicker than this. You could choke if I just let you suck on my cock."
He then put his index and middle finger together and rubbed them along the surface of my tongue. It felt strange and arousing at the same time. I moaned again, but then his fingers slipped deeper into my throat, and he triggered my gag reflex. My body retched, and my throat closed around his fingers as I coughed. He smiled and pulled his fingers back for a second but slid them right back to make me gag again. I could feel his cock rising in his pants every time he choked me with his fingers, so I tried to relax and allow him to stretch my throat through his inspection.
TS Alexus 844-332-2639 EXT 349