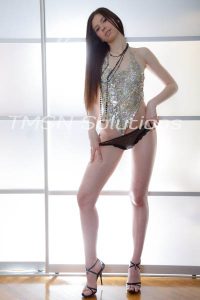 Mila (844-332-2639) Ext-220
Sometimes I fantasize about all the things I could buy in a sex shop. There is always so much to choose from! We all know the usual things, butt-plugs, vibrators, cheap polyester blindfolds. And sure, I have those all sitting in my bedside table. But I really want to use them more often. I mean, who gets to use those toys every day? And how can I expand my collection? Who regularly gets themselves a new adventure to play with? The absolute bliss of getting to try out a new sensation is something I always look forward to. Teasing myself until I can't take it any longer. Having an adventurous man by my side would surely make it easier. Maybe I could go out and find one who really understands what I need. I could start on the prowl, finding the man who would allow me to fulfill my fantasy.
Bringing in an eager guy,
letting him pick out the rope he wants to use, a dildo that looks nice. Maybe even a gag or a pretty set of lingerie. Getting to see them pick through the shelves, eyeing up the best and sexiest items on the shelves. It's a bonding activity really, just getting to see what they gravitate towards. Making up a list in my mind of items for the next time we would come in. Decisions are so hard to make, especially in a sex shop. Too many options for a night of intense orgasms and toe-curling sensations.
We could arrive at the bedroom, he can set up while I sneak away to try on the lingerie. Lacy fabric tickling my skin, or maybe he's the kind of guy to get some latex squeezing into my tits and hips. Pussy already ruining the fabric between my legs, from excitement alone. A slinky walk to the bedroom, only to find him patiently waiting for me to come ravage him. All the toys and accessories out of the package, just waiting to be played with. Lust filling the room as we lock eyes. But I worry that they would try to use them on me, not realizing I had made them pick out toys for ME to use on THEM. I would be the one who would be tying the rope. They would be the ones with their legs spread, begging for more. Where can I find the men who aren't scared of a girl calling the shots?
Mila (844-332-2639) Ext-220
 https://phonesexcandy.com/mila/