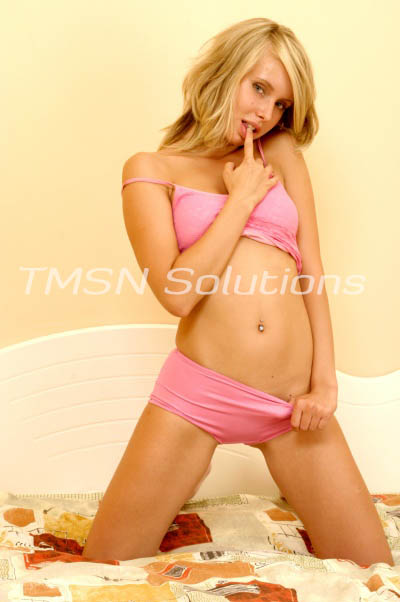 *Allison* 844-33-CANDY ext 286
Pink is such a pretty color. It's feminine and soft just like yours truly! I'm such a hopeless romantic. I daydream about a wonderful man sweeping me off my feet and carrying me into his bedroom so he can show me what a strong man he is. His hard cock will be aching for me as he watches me slowly take off my pink panties. My mouth will be watering as I see his cock grow even bigger while he watches me lick my fingers before I stick them inside me.
He'll crawl over to me on the bed and start licking and kissing my neck. Eventually, he'll move down and kiss my stomach and lick my belly button piercing. He'll move my hand out of the way so he can stick his tongue between my pussy lips just to give it a good licking. Feeling his tongue dance around my clit will be orgasmic. I'd feel like such a pretty lady as I watched him eat me out forever. I would beg him to keep going until I squirted hot cum all over his face.
We're far from done though. Next, he'd pull me down so he could get on his knees and start entering my pussy with his beautiful cock. Oh my goodness, it would feel so much bigger than my husband's tiny cock! I'd be your pretty bitch in pink. You can expect me to do whatever you say as long as you give me some of your hard cock. I'm a well behaved girl for men that deserve my devotion. 
*Allison* 844-33-CANDY ext 286
https://phonesexcandy.com/allison/