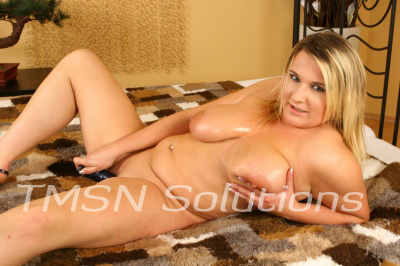 "Juicy" Jody 844-33CANDY ext 332
Pleasing myself shouldn't be something that I have to do anymore. That's why you have a friend with benefits or multiple partners. Apparently, none of you are satisfying me in a complete way, so I spend more time doing it myself. Most of the time with better results. Using my toys or my fingers seems to yield much more satisfaction than you boys and your dicks. You only worry about yourselves anyway. Once you cum, it's over.
Pleasing Myself
I spend far too much time in adult stores these days – looking for my next thrill. Vibrators, butt plugs, and all kinds of other fun things can be found in there. The problem is, I get bored fast. Maybe that's why none of you boys can please me alone anymore. Maybe I need more than one; I need men filling every hole I have, plus my hands.
That's an interesting concept, and the one I plan to use to please myself tonight. Since I have to do this on my own, I think today I will be choosing to fill both my ass and this wonderful pink, tight pussy. I have two toys that have become my chosen victims. A vibrating, remote control butt plug that has so many functions you could fall asleep and not have used them all in the morning. And my tested and true pink vibe. 8.5 inches long with perfect clit tickler action and multiple speeds.
I think life would be much easier if men vibrated. Cock rings are just not the same as vibrators. The sensation is something beyond words; especially when you have it in BOTH holes. I can feel the orgasm building already – it's like a fire. Slow to start and then builds and builds; before you know it, it's an inferno of heat and warmth and it feels better than anything else in the world.
It never takes me long on my own. If only you boys could learn how to fuck me like I do.
https://sinfullysexyphonesex.com/jody
https://phonesexcandy.com/jody
844-33CANDY ext 332