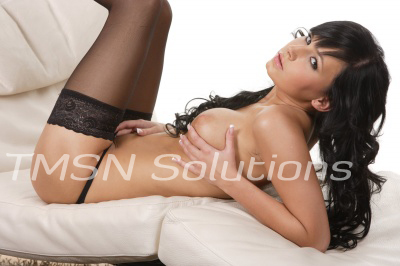 Zia 1-844-33CANDY ext 402
Shopping for new naughty sex toys is so much fun for me. I just got this new, powerful purple bullet vibrator and I just had to give it a test use. My ex-boyfriend came over to hang out and I decided to give him a show. I was playing with myself in front of him and we both had an amazing time.
My ex is a tall, strong man with a full beard and sexy tattoos all over his arms. I was immediately turned on when he walked in the door and knew it was time to pull out my new toy. I had no idea how strong it was or how hard it would get me off. But I was very excited to try it out.
I started by slowly stripping out of my clothes for him while we sat in a chair watching me. I bent over and peeled off my tight black booty shorts revealing no panties and a wet cunt. Then I pulled my top over my head and showed him my huge perky tits with hard nipples. Then I climbed into the bed on all fours and laid on my back. The look I gave him was seductive and I saw his pants get tight.
Slowly I spread my long, smooth legs as wide as they would go and grabbed my new vibrator. My pussy was dripping, and my clit was so eager to feel the sensations. Turning on the power button I instantly knew I was going to get off hard. I started using the vibrator on one of my sensitive, hard nipples. It sent a wave of pleasure throughout my body and right down to my pussy. I moved it over to the other tit and started moaning and threw my head back. Now, it was time to move it to my eager clit.
I bet you're so eager to hear the rest. Playing with myself in front of him was so hot. Well, you'll have to give me a call. We can use my vibrator together and cum hard. I'm getting excited just thinking about cumming for you.
Zia 1-844-33CANDY ext 402
https://phonesexcandy.com/candygirl/zia/