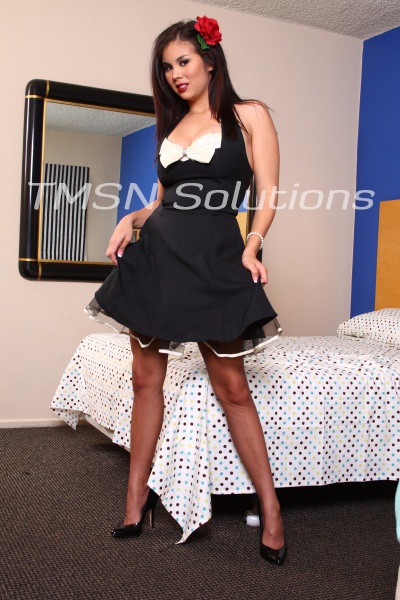 Gianna 844-332-2639 ext 355
Imagine a world that's primarily filled with males. Sounds horrible, right? Not enough females around to help males with their various needs and desires. The lack of females justifies a state of emergency. We had to take drastic measures to add more females to this society.
At this point, millions of dollars have been invested in researching why the female population has decreased so much. Despite all of this, more and more females have disappeared. Some say they've run off to start their own hidden society. No one has been able to prove this theory.
Drastic measures must be taken! Females are a necessary part of our everyday life! 
The government has decided to hold a random lottery to select men to compete in a special competition. The man that proves himself to be the most feminine… will permanently become a female. Some call this force feminization, but at this point, it's a necessary measure. Forcing males to become females is the last resort to ensure that the female population continues to exist!
Aaron woke up to a phone call from a blocked number. "Good Morning Mr. Stanford! You've been selected to participate in this year's Feminization Retreat. As a reminder, this is a mandatory event. It's your civic duty to attend and complete the competition in its entirety. We'll send the full details to your e-mail shortly. Good luck!"
Aaron couldn't believe it. He's heard so much about this competition. He never thought that he'd be selected to participate! 
There are rumors about how men deliberately tried to lose during the competition so they'd be disqualified. He didn't blame them. Being forced to transform into a female was a serious thing. Females were a rarity nowadays. The few females left were already married and becoming too old to reproduce. It wasn't in Aaron's nature to lie or cheat his way out of the competition… so he would simply show up and compete fairly.
Whatever happens, happens! 
The competition is made up of three segments: trivia, etiquette, and performing. The first segment involved quizzing the 10 contestants on random trivia only females would know. Questions about fashion, manners, and famous women stumped most of the men… except for Aaron. He passed the first segment with flying colors.
The second segment required the remaining men to sit at a fancy dinner table. Their mannerisms were closely judged to see how feminine they could be as they took turns serving and interacting with each other. The judges were high ranking female government officials. Their eyes watched Aaron as he graciously poured tea and set his table correctly.
He seemed to be a natural at being feminine. They knew he'd make it to the final third round. 
Men were disqualified as the competition went on. They seemed so relieved once they were able to leave but to their surprise… some weren't allowed to return home. The men that were caught deliberately trying to fail during the competition were sacrificed into the Pit of Masculinity. A large sinkhole that consumed their bodies.
This world has way too many men… so tossing a few aside wouldn't make a difference. Females, on the other hand, are a necessity. 
The last segment required the two remaining men to dress up as a woman and perform an act to entertain the judges. Aaron was of course in the final two! They gave them both free reign over a fitting room full of gorgeous clothes, accessories, and make-up. After seeing what happened to the men who were sacrificed, both of them wanted to try hard… in hopes of making it out alive.
The other contestant was desperately slapping on make-up and rushing through the process. His nervousness will soon cost him everything. Aaron was the opposite. He took his time selecting an outfit that suited him. An elegant navy blue dress, nude pantyhose, sensible white kitten heels, long blonde wig, and simple fresh make-up.
The other contestant looked very disheveled compared to Aaron. 
Aaron chose to play the flute for the judges. He spent years playing so he figured he would impress them. There were breast inserts hiding underneath his bra. His new fake breasts allowed him to rest the flute in a way that made him play better.
The judges were in complete awe of Aaron. No man has ever played such a feminine instrument before. Females naturally gravitate towards performing music in competitions. Aaron has proven himself to be the perfect contestant. 
After Aaron completed his performance, the judges gave him a standing ovation. The other contestant appeared on stage. He was shivering in fear after seeing how well Aaron performed. It's been a while since he was in the presence of another woman. Aaron gave off an alluring female vibe that made the other man feel so inferior. Aaron's feminine beauty definitely outshined him. There was no way he would win this competition.
Aaron was too perfect. Most females could not achieve the level of feminity that Aaron displayed today.
The head judge pressed a button that sent the losing male contestant through the floor… directly into the Pit of Masculinity. Aaron won the competition. A team of younger female government officials stepped onto the stage and whisked Aaron away. They congratulated him and started listing off all of the next steps for becoming a woman… permanently. This was all a rush for Aaron.
He was thankful to be alive… and to start the next chapter of his life as a woman. After all, this competition shows that he is better at being female. It's not like Aaron has a choice… it's either be a female or be nothing at all. 
Gianna 844-332-2639 ext 355
My Profiles