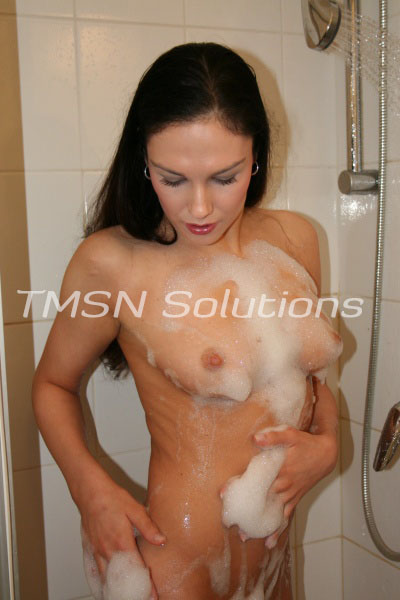 Hunter 1-844-332-2639 ext 387
You're in the shower and little do you know there is a surprise waiting for you as soon as you come out of the bathroom. I have been wanting and craving you all day. You've been a naughty boy and I'm going to enjoy having my way with you. That ass is going to be mine tonight. As you walk out of the bathroom you see me sitting on the bed waiting for you. I am wearing my strap on and have a big smile on my face looking at you.
You drop your towel as I stand up off the bed walking up to you wrapping my arms around your neck kissing you and pulling your hair. Backing us towards the bed turning us and pushing you down on your back. I straddle you and start to kiss down your neck to your chest and lower. Getting to your hips and stopping just to tease you. Standing up I flip you over onto your stomach pulling your hips up towards me.
Then I quicken my pace and grab your hips.
I take my cock and slap it on your ass a few times getting you ready for it. I get us all lubed up and I slide my cock in your tight ass. Slowly thrusting in and out of you letting you get used to it. Then I quicken my pace and grab your hips. Smiling as you're moaning and thanking me for fucking your ass. I reach up and grab a handful of your hair pulling it and pulling back your head at the same time. Your moans of pleasure just excite me more. Stopping I pull out and put a butt plug in your ass flipping you over to your back. Straddling you I reach down grabbing your cock putting it inside me. I start riding you slowly and rolling my hips.
Hunter
1-844-332-2639 ext 387