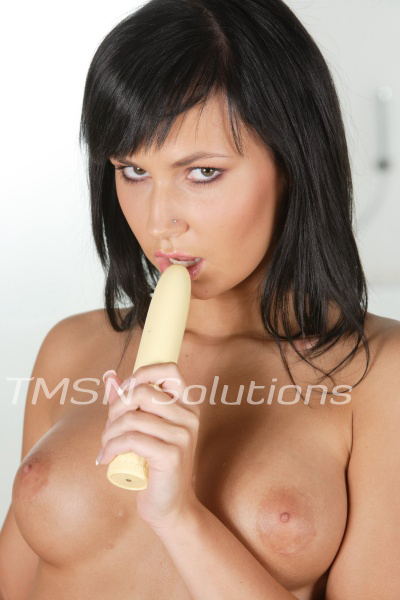 Zia 1-844-33CANDY ext 402

Isn't it so much fun to play with yourself and use lots of different toys? I have quite the collection of dildos, vibrators, butt plugs, and so many other naughty things in my toy box. It gets boring after a while just using your fingers, so I love to mix it up with my toys, although my fingers are magical.
My absolute favorite toy that I own is my 9-inch suction dildo. It has veins and big balls and it's so soft and realistic.
I love to stick it to a mirror on the floor and watch myself fucking it. It's so incredibly hot watching the whole 9 inches slide in and out of my tight, wet pussy. I wish I could show you. I cum so hard watching my hot, tight body being pounded by the huge dildo, the balls slapping my cunt.
Vibrators are also big here. Feeling the vibrations on my little sensitive clit feels so amazing. I have this one that suctions my clit, and it always throws me over the edge. I often masturbate with my dildos and vibrators after I have really hot calls with you guys. It's hard not to get really worked up when I'm talking so dirty and exploring all the naughty recesses of your mind. You all really turn me on, I hope you know.

You should see me when I'm fucking myself with my toys. My huge tits bounce, and I pinch my perky little nipples. I write and wiggle and moan with pleasure at every stroke or vibration. I'm getting so turned on just talking about it. It is so arousing for me to pleasure myself and cum so hard. Don't you want to hear me playing with my vibrator and cumming loudly? Give me a call and I'll let you get a glimpse into my toy box. I can't wait to show you.
Zia 1-844-33CANDY ext 402

https://phonesexcandy.com/candygirl/zia/