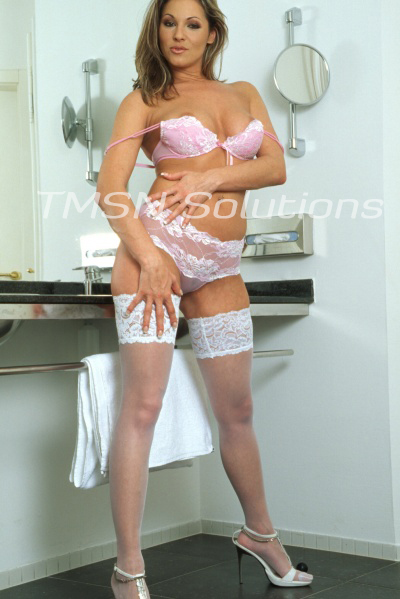 Anna 844-332-2639 EXT. 203
Do you like playing dress up? Or just dressing up, even if you have no fancy place to go? Maybe you want to feel pretty, and be taken care of? Or maybe… you want to be dressed up and made up only to be undressed and played with… Perhaps you'd like to be my dirty little doll for a day…
Let me dress you up in my lust
You're coming over to my house today, and we're going to play dress up. I sit you in the velvet chair of my boudoir and make sure you're comfortable. First, I am going to do your hair. I will turn you so you can face the mirror and see how pretty you are. I brush every strand with my dominant hand, while holding your hair with my other, so that not a single strand gets snagged or breaks. I will tease the top of your crown to make sure its poofy, and last, a nice clip, we have to have it half up, half down to show your pretty face.
Next is your makeup. Pick a color, any color, and make sure it's bold just like you are, to accentuate those beautiful eyes of yours. Next eyeliner to make sure your lash line looks thick, and lastly, mascara, look up to the sky for me, way up, so I can coat your big beautiful lashes. They're so thick and long, I think they're prettier than mine. And the best for the very last. Lipstick, a real lady wears lipstick. Another bold color you say? How about a bright, hot porn star pink. It has to contrast and show up on all of our toys for when we play….
Next I have to dress you. Today's color is pink. A pink fishnet top to show off your assets and make them pop out, a pink thong, and a pink mini skirt. Now, do a spin for me, dirty girl, as a matter of fact, twirl. Let me get a good look at you, like a big bad wolf that wants to devour her prey.  Now, come closer, let me touch you, a kiss on the lips so we both wear the same shade. I lift your skirt, and give you a spanking, and tell you to get on the bed, you know it's play time now, and you better be a good slutty girl for Anna, I can't let you sit here all pretty and not play with you….
Want to come and play dress up with me? Call me baby, and I'll make you my dirty slutty girl.
Anna 844-332-2639 EXT. 203
https://phonesexcandy.com/anna
https://sinfullysexyphonesex.com/anna