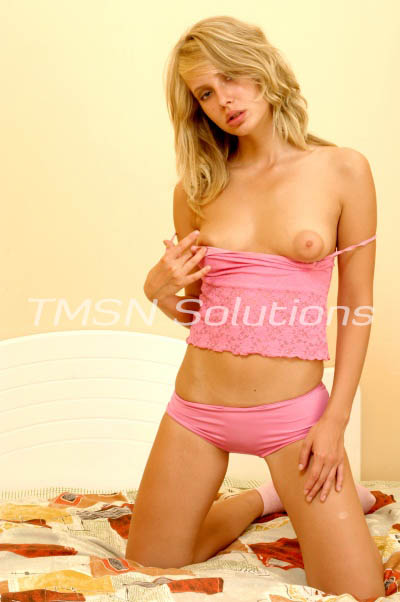 *Allison* 844-33-CANDY ext 286
My nipples are so sensitive and soft. Do you see how puffy they are? You will love how they feel and taste. I can't help but play with them while I fantasize about men other than my husband. I dream of another man cuddling with me while he leans in to kiss and suck my nipples. Will you make my dream come true?
You can kiss them while I am sitting on your lap and facing you. Put your strong arms around me and pull me closer to you so you can get a mouthful of my puffy nipple. I want to feel your warm breath as you pant on me as I ride your delicious dick. The softness of my sweaty body melting into you as we make love will send you over the edge. I'm here to be devoured by you.
Please kiss and savor me all night long.
I want to feel the passion in our thrusts as we become one. Your cock will swell and throb in my pussy as I squeeze my legs around you. I never want you to let go of me. Keep sucking on my nipples until we hear my husband pull up in the driveway. I'll help you sneak out through the guest room exit and give you a wet passionate kiss before you start running off. We never get caught and we never will. I'll do anything to keep you a secret as long as you continue to kiss and please my nipples.
*Allison* 844-33-CANDY ext 286
https://phonesexcandy.com/allison/