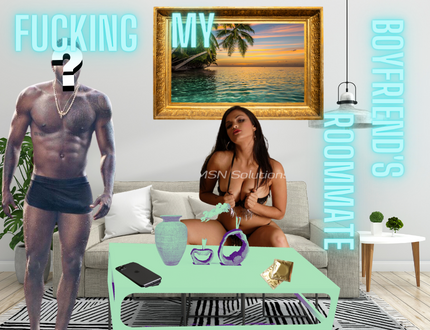 Fucking my boyfriend's roommate  xoX TorrenceXox (844-332-2639) ext 415
If there's one thing about me, I'm never going to get mad, I'm just going to get even. My sweet, loving boyfriend decided he wanted to sample other pussy while on vacation. So, I took the pleasure in sampling his roommate's cock, and it was nothing I've ever experienced. I've had black cock before, but I never had black Caribbean cock! What a difference. The motion in his ocean was like a paradise that I never wanted to leave. I'd leave my boyfriend in a heartbeat to be his roommate's cock slut. Fucking my boyfriend's roommate is the best decision I made in a long time.
Getting my lick back
Was it intentional for me to fuck my boyfriends roommate? Absolutely. After I found out my boyfriend has been busy, I busied myself as well. After getting the accidental facetime call, and hearing him drill another bitch with his uncircumcised cock, I lost my mind. I needed instant gratification, revenge if you will. Speeding over to his apartment where I knew his roommate would've just come home from the gym and gently knocked on the door. He opened the door, glistening, bare chested, and heavily breathing. He had a body that looked like it was created by angels. We stared at each other for a moment before he stepped aside and let me in. 
When one door closes, another one opens
After stepping in, I dropped my dress to the floor, and I wasn't wearing anything underneath. He folded his big arms across his chest as he stared me up and down. He picked me up and sat me on the couch, while he fished his huge cock out of his gym shorts. I sat in anticipation. Once it was out and looking back at me, I was intimidated. I opened my mouth as wide as i could so he could fuck my throat. His cock tasted salty from his work out but i didn't care, i had enough rage in my heart to swallow his cock whole. Feeling his precum coat my tongue got my pussy throbbing.
He bent me over the back of the couch, and spread my pussy lips and proceeded to eat it from the back. His tongue dancing over my clit was amazing. He made me beg him to fuck me, and i begged as if my life depended on it. I found myself stuffed in a tough situation when his cock was too wide to fit in my pussy. But he used all of his body weight to force it in. I bit my lip and took the pain like a champ. After a couple of strokes in my stomach, I got used to it. It wasn't long before I milked his cock until he coated the inside of my pussy with his cum. He promised to keep it a secret, but I honestly don't give a damn, he can tell my man. I'll be back to fuck his roommate again once he's home.
xoX TorrenceXox (844-332-2639) ext 415