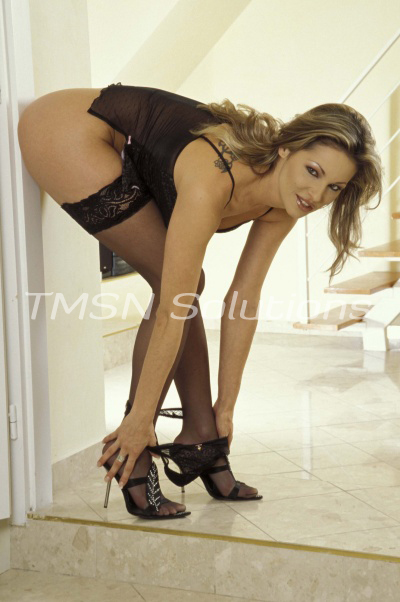 Anna 844-332-2639 EXT. 203
I came home late, thinking you'd be asleep. I heard the TV on upstairs and followed its sound to find you. When I entered the room, I found you, but not like how I expected to, no. I found you laying in bed, passed out, face down, wearing my panties.
Dirty Filthy Panty Whore
I stomped right over to you in my high heels. ''So, this is what you've been doing all afternoon?!' I yelled. Who the hell do you think you are stealing my panties? You woke up startled and discombobulated. I immediately spanked you, which made you finally and fully wake up startled and realize you had been caught. You began to apologize, but it was much too late.
"So, you just take what you want, do ya? You think you look good in my panties? You want to wear my things, no wonder I'm always running out of underwear and can't find them, it's because you keep stealing them!' You began to try and remove them while almost tripping over yourself. 'Oh no! No, no, no, NO!' You're not taking those off, I caught you red handed, you leave them on!' You looked at me puzzled and immediately stopped trying to remove them. You stood there, nervous, not knowing what to do or say.
''Turn around.'' I said, ''And lay back on the bed.'' You did as I asked without a moment's thought. I then ripped open the night table drawer, grabbed my paddle, and spanked you so hard, the hairs stood up on the back of your neck. ''Who DO YOU THINK YOU ARE STEALING MY PANTIES?!" I yelled, followed by another SMACK! On your right bum cheek. You began to apologize profusely and repetitively. But it was too late. I kept spanking you on each cheek and interrogating you, you grabbed a pillow to bite into and moan. 'I bet you think you look better than me in them?! DON'T YOU?!' You didn't answer but I could sense you were grinning. That's when I decided to inflict real punishment on you….
Anna 844-332-2639 EXT. 203
https://phonesexcandy.com/anna
https://sinfullysexyphonesex.com/anna