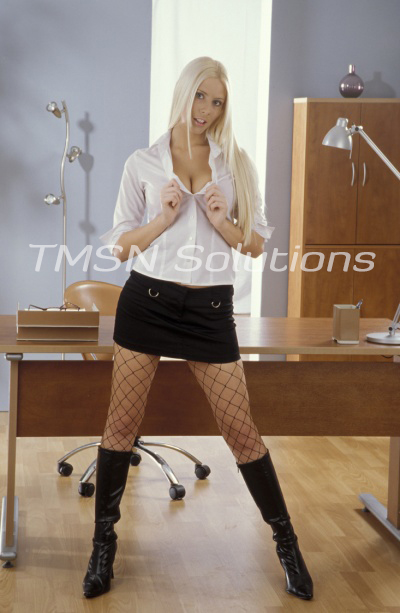 Ariel 1-844-332-2639 Ext 290
All dressed and ready to head out the door in my fabulous new skirt and boots. Walking down the hallway, heels clicking against the hardwood excited to get to the party. I approach the living room and wait to see Daddy's response to my new outfit, hoping I've dressed to please. As I make my way into the room he barely shifts his eyes from the TV. I can feel disappointment creeping up on me. "Do you like my new outfit Daddy?" I ask, twirling in a slow circle. He smirks mildly as he stands up and grabs my hand. "I think it's time for Daddy to play around with fashion." We start walking hand in hand back to my bedroom, my mind racing at the possibilities of what will come next.
Daddy Plays Around With Fashion
When I enter the room he motions for me to undress and I comply immediately. Standing there naked in front of him, I feel a rush come over me. His gaze is all that I crave. Watching him go through the closet my mind is intrigued as to what he will pick for me. I see him throw a pair of stockings onto the bed next to my skirt as well as a tight white dress shirt that sits just above my belly button. The boots I had picked he puts back in the closet and replaces with black knee highs. I can see the outfit coming together nicely. He turns to me and says, "Let me watch you get dressed." I walk to the bed and start with the stockings nice and slow, making direct eye contact as I slide them onto my feet. Biting my lip as I slide them over my hips, seeing you stare approvingly.
As I struggle to fit my tits into the dress shirt, the rest of my outfit on and put together, he walks towards me and undoes the top two buttons, allowing my cleavage to show as the fabric barely conceals me. He grabs my hand and twirls me around in a circle, admiring the view. I smile and jump up and down excitedly. "Thank you Daddy. I feel so sexy and ready to go!" He smiles and walks me to my bedroom door and out to the living room. The clicking of these new heels echoing around the house as I make my way to the front door. I smile over my shoulder at Daddy, pressing my ass out a little. He spanks me and laughs, opening the door for me to leave. I love the nights when Daddy plays around with fashion; I hope there are more.
Ariel 1-844-332-2639 Ext 290
https://phonesexcandy.com/Ariel
https://sinfullysexyphonesex.com/Ariel
https://tlcphonesex.com/Ariel