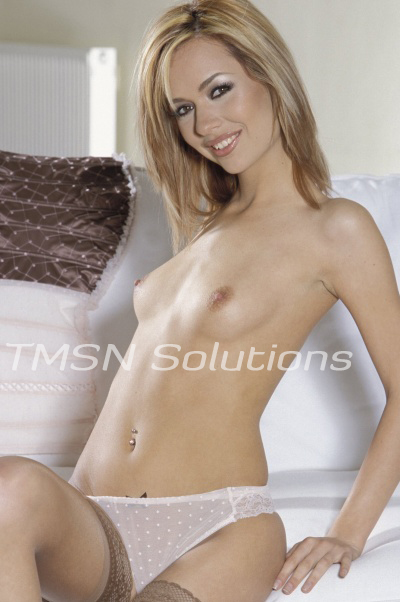 Nicole 1-844-33-CANDY EXT. 420
Every time I answer the phone, my pulse quickens and my pussy gets wet at the sound of your voice. Hearing how breathy you get when the anticipation is building gets me more riled up than you could ever possibly imagine. The way you talk to me on the phone makes me feel like such a slut; it's so dirty and I love every second of it. Every time I hear your voice, my mind goes into overdrive and makes my body feel electric. You excite me so much that I have a hard time concentrating during the day because all I can think about is what we're going to do tonight. When I'm with you, everything else disappears completely and all I want in life is to please you in any way possible. Exactly the way you please me. I want to make you feel bliss.
Come Taste My Candy
I want you to take control of me, fuck me good and hard until you come inside me, filling me up with your sticky cum. I need you so bad. I know that your cock feels amazing sliding up and down my tight little slit. I can't wait for you to slide it deep inside me again and fill me with hot spunk. Then I'll be able to feel your warm sticky load coating my insides as you lie next to me, your big strong arms wrapped around me, holding me close against your body. I don't even care if the neighbors see us. I just want them to know who I belong to. That I'm yours. My mouth will always be open for you, waiting for your thick cock to slide down my throat. My ass will always be ready for you to pound away at it. Your hands will never be far from my body. They'll be caressing every inch of me, making sure I feel every single sensation. I'm yours, baby. I am so fucking horny right now and all I can think about is you. I want you to call me and tell me exactly what you are going to do to me. I want you to come taste my candy.
Nicole 1-844-33-CANDY EXT. 420