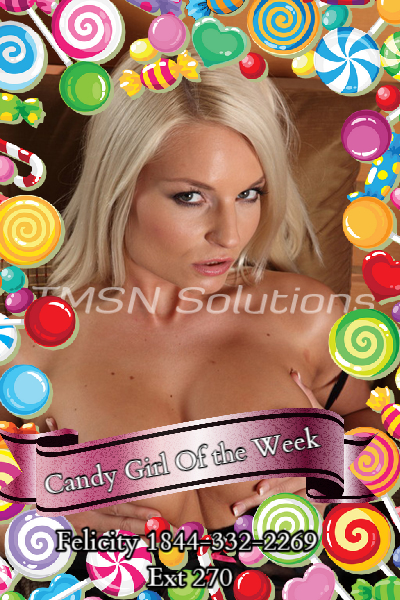 Candy Girl Of The Week Felicity 1844-33-CANDY Ext 270
Hello Babies and Sissies. I suppose there are others here, but you know Momma has her favorites. Or maybe you don't know just yet? I suppose we best fix that right now! Click that little button below to learn about your Candy MAMA of the week. Let's see here. These questions here asking me a little bit about me. Let me tell you.

Candy Girl Of The Week

What's your favorite style of panties?
You'll often find me in bikini-cut panties or thongs if the occasion calls for something without panty lines.
What part of a man's body turns you on the most?
Oh, honey. You know Momma's favorite part of any little boy or sissy girl is her clitty stuffed up in a pair'a panties or a padded diaper. Or two.
Are you Domme, submissive, or more of a switch?
I'm more of a Mommy Domme, if you will.
What makes you feel sexy?
Getting what I want makes me feel sexy. When I force a grown man into wearing something ridiculous for my entertainment or pleasure, I just get so wet!
Do you have a secret/not-so-secret fetish?
*Chuckle* If I do, I'm not going to tell you for free.
How often do you masturbate?
Just every now and then 😉
Um, well, thanks for taking the time out of your day to learn a little bit about me. Hopefully, you've found out some things you didn't know before. Now, quit reading and call your Candy MAMA of the Week! Bye!
Felicity 1844-33-CANDY Ext 270
https://phonesexcandy.com/felicity
https://tlcphonesex.com/felicity/
https://sinfullysexyphonesex.com/felicity/