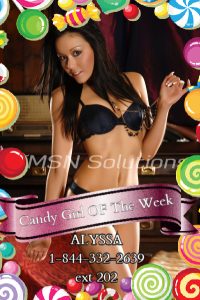 Candy Girl Of The Week Alyssa 1-844-332-2639 ext 202
Hi boys, I'm Alyssa, your Candy Girl of The Week. I am petite and exotic and definitely your Asian Princess.
This is an amazing time for you to get to know me even better, but I should warn you that once you experience some Asian Persuasion, things will never be the same. So, indulge in your craving.

Candy Girl Of The Week

What's your favorite style of panties?
I love a cute thong. Of course, my cute little butt looks good in just about anything!
What part of a man's body turns you on the most?
I love a man's eyes. A confident and self-assured man gazing deep into my eyes is a huge turn on.
Are you Domme, submissive, or more of a switch?
I would call myself a switch. I can be super dominant and even mean and cruel but I also have a softer side that craves a Daddy.
What makes you feel sexy?
I am the total package. It's hard to choose just one thing. I am always feeling sexy.
Do you have a secret/not-so-secret fetish?
I love anal! There is just something so dirty and naughty about it!
How often do you masturbate?
Whenever I get the chance, it just feels so good!
I hope this gave you a little insight into me and also a hard cock. I'm here every night so if you want to get to know me even better I would love to talk.
Alyssa 1-844-332-2639 ext 202
https://phonesexcandy.com/candygirl/alyssa
https://phonesexcandy.com/tlc/alyssa
https://phonesexcandy.com/sinfully/alyssa