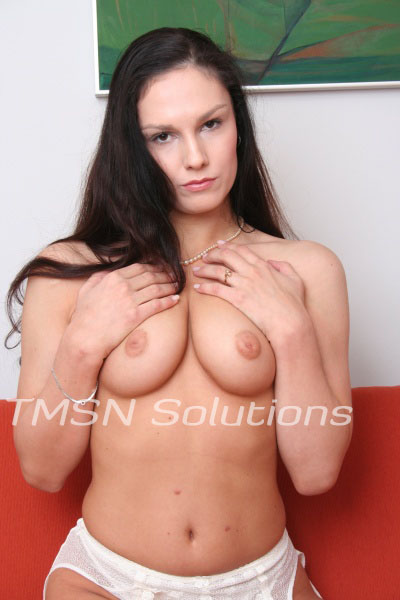 1-844-332-2639 ext 387
Come here, you bad boy. He turns to look at me with those dark chocolate brown eyes with his fresh cut brown hair reflecting from the lake water. He is giving me that seductive smile almost making me forget what he has done. Do you think you don't have to listen to me and follow the rules? well come here baby boy let me remind you how to follow the rules.
I reach out for his arm as I'm wrapping my fingers around his bulging muscles to pull him closer to me and it slightly distracts me. Feeling the muscles flex under my fingers as I squeeze his arms it turns me on. Watching my dark purple nails dig into his bicep as my body tenses and starts to tingle all over quivering down my body towards my tight wet pussy. So lost to the overwhelming desire I felt I almost forgot about him being a bad boy today. Bad boys get spankings and/or time-outs.
Oh, that's a good boy.
Bend over and let me have your yummy round ass. I take down his pants showing his butt. Giving him a few spankings with my bare hands. Seeing his round ass turning a little red from the spankings makes me more excited and more confidant to take complete control. Getting my pussy so wet. Are you going to be good now? No? Well, maybe this will work. I grab him by his soft hair and push him down to his knees burying his face in my wet pussy to eat. Oh, that's a good boy. Biting my lip and smiling as I smell his arousal heightening driving me crazy turns me on more. Oh, baby boy!
Hunter
1-844-332-2639 ext 387