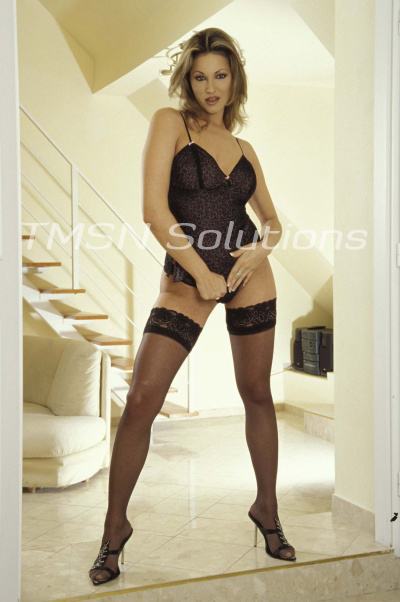 Anna 844-332-2639 EXT. 203
Have you ever met someone who liked the exact same things as you? the same clothes, the same lingerie, who you had so much in common with, and who you just felt at home with, like there was a special sultry connection, and you were just yearning to talk to them? To hear their voice? to play with them and please them to no end?
Triple S
Get dressed up for me
I come over to your house, and tell you to get dressed up for me. You put on your silk nude stay up stockings, with the lace tops, because you know how much I love those, and I want you to match me. Yours are nude, and mine are black, but that way we look like slutty sisters! You then put on your silky panties, your silky top, and your beautiful hair. But for the final touch, I want you to put on lipstick for me, no need for too much makeup, you are so beautiful and your skin is like porcelain, it is flawless, therefore you don't need it. I will put it on for you, a nice bright colour, so that it can be seen from a mile away, and leave lipstick marks everywhere!
Let me examine you, closer my dear
Once you are done getting dressed, I tell you to bend over. I need to check to make sure your stockings are on perfectly straight. If they are back seams, the seam must be lined up perfectly up the back of your leg, and if they are plain silk, then we still need to make sure the inseam is tucked away, facing the inside of your pretty crotch. That's how dirty girls do it baby. Once I check, I give you a gentle spanking, and tell you what a good dirty girl you are for me, you put them on perfect! I didn't need to help or adjust them, you are an expert!
Foreplay
I put on my harness strap-on, and tell you to get down on your knees. I want you to swallow my big hard cock. That's it, be a good slutty girl, I want you to take it in allllll the way to the back of your throat, you have to make sure you leave lipstick lip marks on it, right at the very base of it for me. You're such a good dirty girl. You're such a good, dirty, slutty girl for me.
I want to devour you
Now for the fun part…. I lay you down and spread your legs, you are so excited, and so am I. we have been waiting to devour each other for so long. Then, I am going to make dirty, filthy, naughty love to you, we will lube both of us up, because baby, you know I don't want to hurt you, only please you and send you over the edge. I can't tell you the rest, because that's between me and Miss Triple S. She is the sexiest, naughtiest lady I have ever met. Together, we are like a pair of silky sexy stockings. You can't have one without the other, it just wouldn't be the same!
Anna 844-332-2639 EXT. 203
https://phonesexcandy.com/anna
https://sinfullysexyphonesex.com/anna