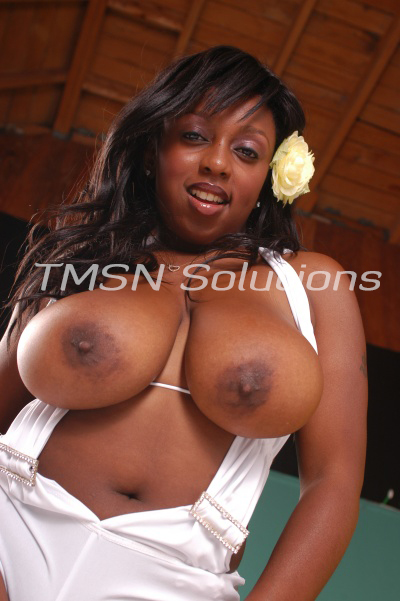 CINNAMON 844-332-2639 ext 277
Boy you are freaking obsessed with Mama's titties! You always be running your mouth about them! I know how big and appetizing they look to all the horny boys up in here! Some of you need to calm down and let Mama get up close and personal. If you don't hush up and let Mama fuck you then I'm gonna have to give you some titty smothering phonesex. Not like you gonna complain about it!
I realize that you're just horny but dang! A lot of you be acting crazy and running your mouths too much instead of dicking Mama down! I'm going to push you down in the chair and hop on you so I can shove my big ole titties in your sweet face!
Ooooh DAMN! I feel your dick getting hard as fuck as I grind all over you and bounce my tits in your face. I'm grinding into you so much that my tits start smothering you.
Woo chile! I can barely see your face since you straight up LOST in Mama's titties! You having all kinds of fun being stuck between both of my tatas! I throw it back and shake my funbags so I can slap ya around with em! You don't got to worry about anything while Mama is riding your dick and smothering you with these titties! What the heck you waiting for boo?! Call Mama up and let's get shaking! I'm horny as fuck now!
CINNAMON 844-332-2639 ext 277
https://phonesexcandy.com/cinnamon