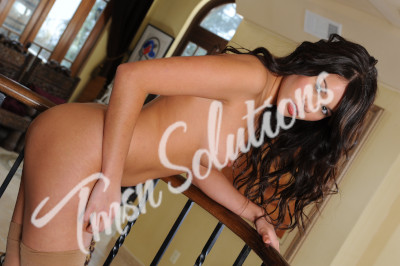 Sammy (844) 332-2639 ext.421
My King's cock rolls off of him with ease and finds itself in the back of my throat. Without hesitation from him. And only a mild chase from me. My pouting lips invite him to take over my mouth with a breath-stealing kiss and put his favorite girl, Sammy, on her knees.
The power of his cock takes me over. His growls of approval let me know that his cock owns my throat. Sammy doesn't want it any other way. Not all men Sammy comes across are kings. But the ones that are, know their place and how to make Sammy worship them while she sits on her throne herself. 
My King's Cock Cums First
Slap, slap, slap. Sammy's tonuge takes a light beating from her King while her eyes stare daggers into you. Sammy trains her focus back to your throbbing dick and gives you all of her attention. With both hands tightly stroking and her lips caressing your tip.
Sammy doesn't forget about your full balls. Playing and squeezing you while you hold back from trying to release. You never want this to end. But Sammy knows her way around a fat cock like yours. She brings you to your tip toes and she goes faster and faster. And brings you right back down and she strategically slows. Her King never has to beg Sammy for her pressure and the speed of her lovely mouth. But she can read your body like a book. Can see the desire in your eyes while she licks you clean. And lives to see the sweat beat out of your forehead when you unload inside her mouth. Sammy can walk her walk. And definitely talks her talk, when her mouth isn't full.
Sammy (844) 332-2639 ext.421