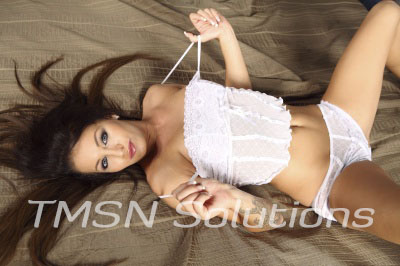 Sinful Serinda 844-33-CANDY (844-332-2639), ext. 394
How's your Monday going?  Good.  As for me, I'm having extra naughty tonight.  In fact, I'm feeling a little slutty.  I'm in the mood to be a slutty MILF who's addicted to young cock.  (That's not much of a stretch, but I'm in a real naughty mood)  I just can't help myself, there's been such a dry spell lately that it's left my sexual appetite insatiable.
I'm sure I'm not that only one this has happened to, right?  Have you ever had such a deep craving for pussy that you'll do anything to get it?  And every woman you see just makes your cock tingle.  All you can think about is how good her pussy tastes.  Or how good her lips feel wrapped around your cock, sucking softly at it.  And you can just hear her wet lips on your skin, sucking and sliding up and down.  That's kind of what I'm experiencing with every piece of meat I see.  Because that's what you are to me – meat.  Tasty, succulent, fresh meat. And it's all for me.
And then the slutty MILF in me takes over, and I have my way with them.
I've been told that line of thinking is sure to get me in trouble, but I really don't care.  When I have to chase you down as much as I do, I can't help but pounce.  Like a rabid lioness pouncing on her prey, I hold them down until they can't struggle any longer against me.  And I do love the hunt.  I love the struggle and the final acceptance that they belong to me.  And then the slutty MILF in me takes over, and I have my way with them.  Teach them how to please a real woman.  And show them how wonderful it is to give in to their fantasies.
Serinda
844-33-CANDY
(844-332-2639)
ext 394
http://www.sinfullysexyphonesex.com/serinda/