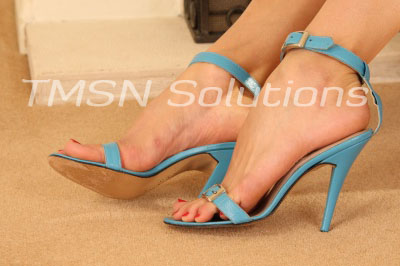 I know what you like. My long, tan legs donning the strappy, sexy blue heels you picked out for me. Looking you in the eyes while you rub the front of your pants I slowly, gracefully strap them around my ankles. Smiling because I know how much you want to cum all over them. I can tell by the look on your face.
I look you right in the eyes as I sit in front of you. I cross my legs, swinging one blue heel closer to your face. You bite your lip, and I can see you're having a hard time keeping your hand on the outside of your pants. But you know better. You know that if you start palming your cock now, I will not let you do your favorite part.
Unstrap my Sexy Blue Heels
Take my foot gently in your hands and undo the strap holding my Sexy Blue Heels onto my dainty feet. I know that you have been longing to worship my feet for quite some time, and today I have given you that chance. Make sure you take the time to savor every moment of it. I hope you realize just how blessed you are to be on your knees before me, treating me in such a seductive manner.
Your tenderness and eagerness seem to be battling each other, and this amuses me more than you can imagine. For now, the tenderness is winning as you begin to take the other heel off. Leaning forward slightly, I run my fingers over your shiny bald head. This is not a turn off for me though, I genuinely want to praise you for a job well done.
Indulge in your need…
Now that both my heels are off, I tell you that you can sniff them, which is one of your rewards. I smile as I watch you indulge yourself. Once you are done, you place them to the side and scoot just a tad bit closer to me. My toes are now running up and down your bulge, and I can see you shiver from pleasure. Go ahead and pull your cock out, you may cum on my feet now. But only if you are ready to lick them nice and clean.
Monique
844-332-2639 x 231
http://www.tlcphonesex.com/monique