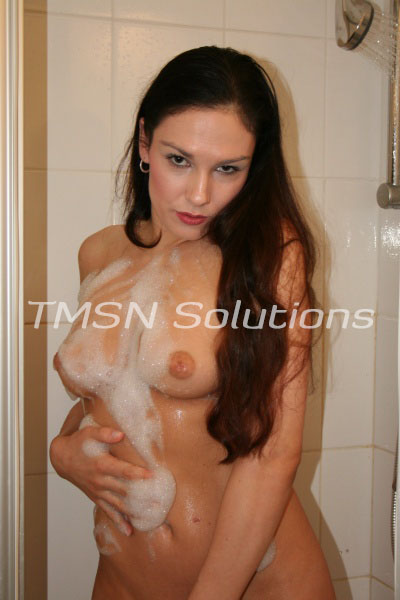 Hunter 1-844-332-2639 ext 387
The husband is out of town yet again. I've gotten so used to my toys and taking care of myself. Honestly, I don't know if I remember what real dick feels like. However, as terrible as that is it doesn't bother me too much being I've been fully pleasured and satisfied now vs before. I'm just getting home from work thankfully! It's been a long stressful day.
Also, I've been so horny walking is teasing me as well as the slightest brush of my breasts. As soon as I get in the door of my house I lock the door and drop my bags. Not caring that some of their contents fall out. Then I head straight to my room stripping my clothes off the whole way there. Just letting all my clothes drop to the floor as I walk. Once I get to my room I grab my favorite toy.
Attaching my toy to the shower wall.
After making sure it's charged I go to my bathroom turning on the water in the shower. Setting my toy on the side of my bathtub I set the temp where I want it and get in the shower. Moaning as the hot water hits my sore body. I stand there for a few minutes of standing there letting the hot water work on my muscles I grab my told and stick it to the wall of the shower. Then bending over sliding my tight wet pussy down the shaft of my toy.
Moaning as I feel my tight pussy stretch around the thick shaft of my dildo. Then I put my hands on the wall across from I start to slide my pussy up and down.. Moaning at all the pleasure I'm feeling. Taking my right hand and grabbing my breast and pinching my nipple. Turning me on so much more. Thrusting my hips quicker.
Hunter
1-844-332-2639 ext 387
https://phonesexcandy.com/hunter/
https://sinfullysexyphonesex.com/hunter/
https://tlcphonesex.com/hunter/