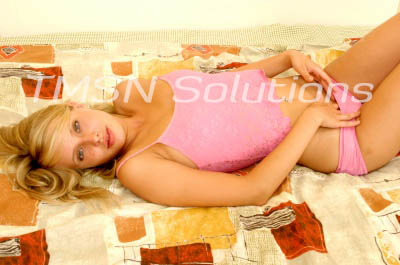 *Allison* 844-33-CANDY ext 286
I know that you stare at my pictures and fantasize about tasting my cleanly shaven pussy and soft nipples. Your tongue would fit perfectly in my tight little holes. Are you salivating now? You better be!
I need a hungry man that will devour every inch of my body.
Lay me down like I'm a slab of meat. You know I would be a prime sirloin. Soak in my beauty and my perfect body. Marinate me with your juices. I want to see your tongue hanging out of the side of your mouth when you crawl over my body. I can tell you're ready to pound me really hard. I'm ready for you to consume me. ALL of me!
I hope you're hungry enough to finish me off.
You begin licking my neck and eventually moving down to my breasts. I enjoy the feeling of you sucking and slurping my delicate body. You grab and massage my skin as your mouth desperately clings on to my sensitive areas. I go crazy when you start treating my clit like it's the main course. My body starts to tremble but you firmly hold me down so I can't move too much. After tasting every crevice of my pussy, you decide to move down to my feet for dessert. I watch you stick your tongue in between my toes and suck on each one. Oh my, you are quite the hungry boy, aren't ya?
*Allison* 844-33-CANDY ext 286
https://phonesexcandy.com/allison/