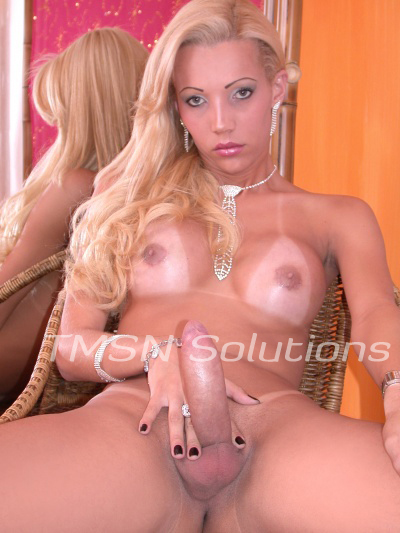 TS Alexus 844-332-2639 EXT 349
So you wanna ride this dick? Don't lie, and I know you're so obsessed with my shemeat. You act like you're straight and even pretend you aren't bi-sexual, but you lust this cock so hard. Nearly more than you want your own dick to get wet. However, if you're gonna take a spin on this cock, I need to make sure you can handle a good dicking.
To earn my cock in your tight little boi pussy, you'll need to run the anal gauntlet. 'What's that?' Your curious mind wants to know. I'll tell you. The anal gauntlet is a set of four dildos. All suction cupped to the floor, four feet apart. The further you go down the gauntlet, the thicker and longer the dildos get.
Anal Gauntlet
I want you to dress to impress. Put onSo pute sluttiest thing you own, crotchless panties if you got them, and let's go! Start with your feet shoulder-width apart, hovering, over the first dildo. Thin and nearly three and a half inches long. Easy first toy to get you warmed up.
Facing me, you will squat down on the dildo and start to bounce. You can not move to the neck dildo until your ass cheeks have hit the floor six times. A time for every inch of my pretty shecock. Once you've filled your booty hole up six full strokes, you can climb off and move on to the next.
Six inches.
Nine inches.
Twelve inches.
Remember, your cheeks must tap the floor six times on every dildo in order for you to complete the anal gauntlet and earn a pounding from my gorgeous shecock.
TS Alexus 844-332-2639 EXT 349