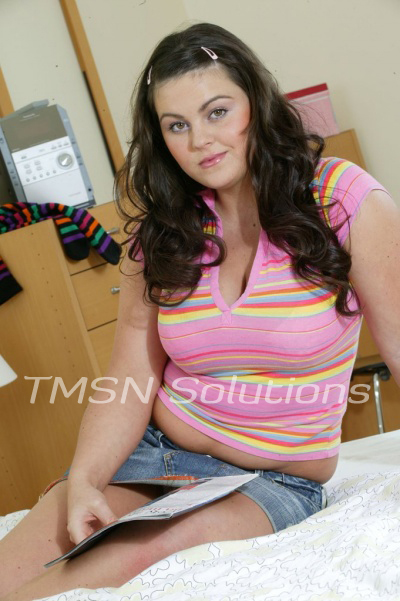 By Krysta 844-332-2639 Ext. 410
Where I live in Georgia, it never snows. It sometimes gets a little frosty in the mornings, but just a way down the road, there's a popular mountain where we pretty peaches can get our winter fun on. Daddy drove me up there, and it took longer than we expected. By the time we got settled into our cabin, poor old Daddy was too tired to play with me.
I had so much energy from just sitting in the passenger seat all day; I had to get outside and play in the snow! So after bundling up in my snow gear, which wasn't much, I skipped outside into the darkness of the forest. The cabin lights were bright enough for me to see what I was doing as I rolled snow into three different-sized balls.  Hefting one on top of the other, I soon had myself a snowman!
Frosty Made Me Cream
I found some sticks for Frosty's arms and a few rocks from the plowed drive for his eyes and mouth. The poor dear was missing a nose, but I remember Daddy had packed lots of veggies for us. So, jogging inside, I grabbed a thin, long…cucumber…hey, not my fault Daddy didn't bring carrots.
Back outside now, I shoved that cucumber into the center of Frosty's face. My body shivered as the wind blew my hair from my face, and I assumed Frosty must be cold too. But, he is made out of snow! If I gave him my scarf, I would surely freeze, but he could wear Daddy's! I trudged back into the house to grab it and came all the way back outside, my energy levels draining now from walking through all this snow!
When I wrapped Daddy's warm wool scarf around Frosty's chubby neck, the wind blew harder. Causing a gust of snow to swirl up around us. I closed my eyes against the blast, and when I opened them again, Frosty was alive! I was so stunned I couldn't even scream! He waved at me with his little stick arms and then grabbed me by my waist. "You look cold, my dear." The snowman spoke!
A Daddy Snowman?!
Too shocked to speak back, I nodded. "Then I think we should warm you up with some Christmas magic!" I never turn down Christmas magic, but I have to admit to feeling a little out of my mind when Frosty began to strip me. He pulled off my jeans and panties, then pushed me up against a snowbank, where he spread my legs and plucked the nose off his face.
I watched excited and nervously as he dragged that thin cucumber over my pussy lips and slowly twisted it into my body. I moaned deeply at the naughty feel of it all. The wind was freezing my skin, but Frosty was heating my insides. He fucked me with his nose, deeper, harder, and faster until I was screaming loud enough to wake the whole mountain! Fuck, how Frosty made me cream.
Krysta 844-332-2639, Ext. 410
https://phonesexcandy.com/krysta/